About Greg
Since Greg was a kid he has loved working on mechanical things, playing around with mini bikes and go karts in his early years. His fascination with all things automotive was instilled at a young age, with Greg's dad regularly buying, refurnishing and selling cars in his spare time. His dad and uncles were also avid motorcycle racers, tuning their engines for performance with an almost fanatic fervour.
Becoming a fitter and turner by trade, Greg decided to follow his passion after moving to South Africa in the 1980s, buying a workshop where he would specialise in working on Alfa Romeos. Whilst in South Africa Greg was also involved with speedway and circuit racing, both as a technician and a racer – his victory in the 1987 Clubman Championship was but the first in a large collection of silverware Greg has secured over his career.
After 10 years in South Africa Greg moved back to Australia in 1991, and started Smart Automotive Restoration. Initially offering mechanical repairs and servicing, today Greg focuses on restoring classics and sentimental favourites back to their former glory. Even today Greg still loves racing, though, driving a $1 million Aston Martin DB4GT around the Albert Park circuit in a historic demonstration race as part of the 2016 Melbourne Grand Prix.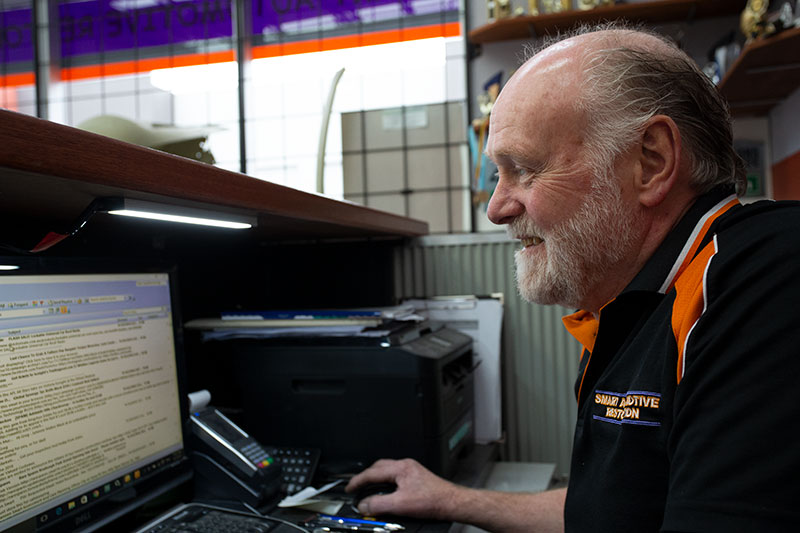 About Smart Automotive
Smart Automotive Restorations is a professionally run restoration shop, specialising in classic and prestige vehicles. Greg's lifelong passion for all things automotive as qualified fitter and turner, mechanic and racing technician gives a level of quality and attention to detail to his work that is hard to match.
Providing a complete range of services from minor tune ups through to full restoration, Greg draws upon a lifelong history of motor racing and building performance motors for every vehicle he restores, from track vehicles of all kinds, to vintage classics from any era, to high-end vehicles from the world's most renowned prestige manufacturers. Sourcing only the highest quality parts from across the world, or in some cases making the exact part required on-site himself, Greg understands what a car can mean to a driver, and does everything he can to return it to you in the best possible condition. While work continues your vehicle is kept at our fully insured workshop, with 24-hour surveillance, guard dog and the utmost respect for our customers' confidentiality.
We also install new and refurbished brakes, fuel and exhaust lines and search to see if any nuts or clips need replacement. All mechanical aspects of your classic car can be replaced or refurbished. We also manufacture brake hoses, can be made as original or steel braided hoses.
Customers that care about the quality of repairs, demand an old-school mentality of care with customer service that goes the extra mile, and the personal attention of an automotive expert, know to call Greg Smart at Smart Automotive to get the very best for their vehicle.